This inaugural exhibition displays a unique set of photographs of POWs and their work parties in the Kobe area. These POWs are ex-Hong Kong, mainly (if not entirely) survivors of the Lisbon Maru. The photographs have been kindly supplied by Bruce Waldron, whose father Sergeant Albert Edward Waldron, 6201203, of the 1st Battalion the Middlesex Regiment was a POW here. To the best of my knowledge, no similar collection of genuine wartime photographs of POW life in Japan exists.

Luckily, on the reverse of each photo there is a Japanese caption. Although some were in part unreadable, with the kind assistance of a Japanese friend, translations of the captions appear under each photograph.

POW numbers are visible in some instances, and we hope that some of the POWs shown here might be recognisable to their families today.

Tony Banham, April 2011 (With additions, May 2012).

Kobe City Souto-ku Higashi Kawasaki-cho 1-46, Mitsubishi Logistics Co. Kobe branch, Daiichi Shinko (No.1 New port)
Nippon Express Co., Kobe port Branch. Stamp: Showa19, Jan8, Kobe Kenpei Squad Inspected Mr. Kamano
Kobe City Kobe-ku Kobe hatoba-cho (wharf), Kobe Senpaku Niyaku (Vessel Loading) Co.
Nippon Express Co. Higashi Nada Sales office
Hyogo Pref. Nisinomiya city Imazumasago-cho 14, Yoshiwara Oil Co. Nishinomiya factory
Yoshiwara Oil Co
Sumitomo Warehouse Co., Hyogo pier (jetty) warehouse
Nippon Express Co., Minatogawa Branch
Nippon Express Hyogo Station
Nippon Express Co., Higashi nada Sales Office
Nippon Express Co., Hyogo port branch
Nippon Express Co., Hyogo port branch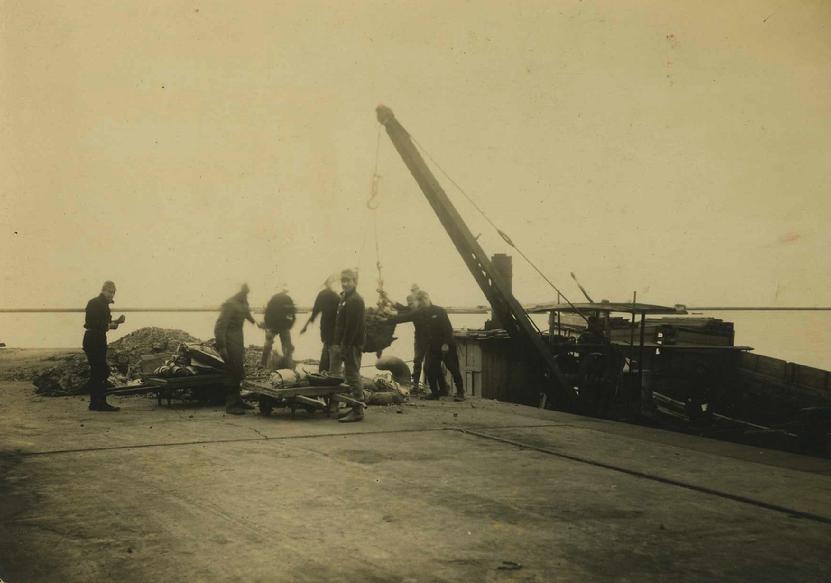 The limited partnership, Utsumi gumi
The limited partnership, Oohama gumi
The limited partnership, Ohama gumi
Limited Partnership
Limited Partnership
Nippon Express Co., Higashi nada Sales office
Kobe-shi, Souto-ku, Higashi kawasaki-cho 1-46 Mitsubishi Logistics co. Kobe branch, Takahama quay
Albert Edward Frank 'Frank' Waldron
Frank Waldron (born 1914) joined the Middlesex Regiment in 1933 at Inglis Barracks, Mill Hill, London, having worked as a trainee printer at John Dickinsons at Apsley Mills, Hertfordshire. The First Battalion was posted to Egypt in 1935, and then in 1936 to Singapore; a further move took them to Hong Kong in 1937. A Colour Sergeant, he was captured on Christmas Day 1941 after the battle of Hong Kong. In October 1942 he survived the sinking of the Lisbon Maru and was eventually picked up and landed at Shanghai. From there he was taken in the Shensei Maru to Moji, Japan, and then to Kobe where he was put to work as a docker. During his captivity he became very sick with Diphtheria, but he returned to the UK in 1946 and continued to serve with the First Battalion the Middlesex Regiment. He served in BAOR and returned to Hong Kong in 1949 as one of only five veterans of the Battalion's wartime service there to return at that time. He returned briefly to the Depot in 1950 but then had a third spell in Hong Kong. Waldron and one of the other veterans laid a Memorial Tablet in Hong Kong Cathedral in 1952. Initially granted a short-term commission he was promoted to Lieutenant Quarter Master, and subsequently served in Austria and then Cyprus where he was awarded the MBE (the family were the most EOKA bombed Middlesex family living in Larnaca). He returned to the UK and ended his service as a Major Quarter Master at Howe Barracks in Canterbury in 1967. In the mid seventies he became the Secretary of the Middlesex Regimental Association – a post he held until 1993. He died in 1999.
--- Hong Kong War Diary ---